Ibuse
Kanji

井伏

Rōmaji

Ibuse

Characteristics

Race

Human

Gender

Male

Hair Color

Black

Eye Color

Black

Professional Status

Affiliation

Japanese Ground Self-Defense Force

Personal Status

Status

Alive

First Appearance

Anime Debut

Portrayal

Japanese Voice

Tomohiro Satou
Sean Chiplock (English)
Ibuse (井伏, Ibuse?)
Appearance
Edit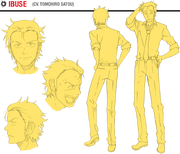 Ibuse is a young man. He has messy black hair and black eyes. He usually wears a white polo shirt, a blue loose necktie, black pants, and black shoes.
Personality
Edit
He is usually seen with commander Onihei Mishima helping him in rescuing the survivors.
Although usually calm and laidback, he occassionally becomes very frantic and anxious when things do not go according to plans. He can be childish and hot headed, especially in the later chapters of the manga. Like Aoi who refers to herself as a 'cutie', Ibuse refers to himself as 'Kyoto's dependable bro'. While being taken in for custody, he is seen with two new wounds on his face he did not have just moments earlier, despite Mishima being scratch free, hinting that Ibuse acted out of line and resisted, resulting in the prime minister's forces to resort to violence. He becomes very sulky from then onwards, complaining and making a ruckus. 
Despite this, Ibuse does have a mature and responsible side as well. He will often praise the Medical Unit and show concern towards their wellbeing (e.g. asking if they've been eating well, if they are okay, etc.). He takes it upon himself, whilst reassuring them as best he can, to find a way to make things work, becoming fustrated at himself for being incapable. Ibuse can also become very defensive for the sake of his friends as seen when the prime minster's assistant insults the Coppelion by calling them "dolls", Ibuse sternly shoots a glare, but Mishima stops him promptly. 
Relationships
Edit
Onihei Mishima
Edit
Ibuse respects Mishima and is usually, if not always, seen by his side. They share the same values and beliefs, despite there being a clear difference in maturity.
Mushanokouji
Edit
Aoi Fukasaku
Edit
It is shown in the final episode that Ibuse and Aoi share a close relationship as seen by the way they speak to each other. Aoi adds "cchi" at the end of Ibuse's name as a sign of close friendship. Ibuse seems to be fine with it and even lectures Aoi whilst reassuring her that he, alongside the 3rd Division, were on their way to save her and the others. 
3rd Division
Edit
Ibuse is respected by his team and is able to unite everyone without any resistance.
Abilities and Powers
Edit
Major Battles
Edit
(To Himself) "Oh dear, there goes my salary"
(To Mushanokouji) "But...seeing how bravely those girls are working...makes me wonder if there isn't something I can do, too. Even if it'll lead me down a cliff I can't can't climb back up."
References
Edit